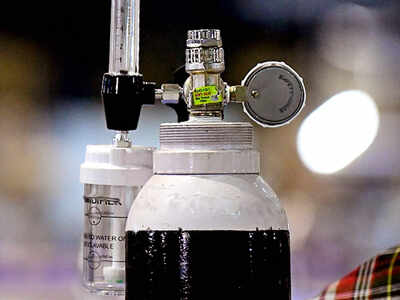 Several hospitals flirted with disaster before remedying the situation at the last moment.
NEW DELHI: Rainbow Children's Hospital in Malviya Nagar sent out a distress call for oxygen around 10pm on Tuesday. The hospital has around 90 patients, including 20 new-born babies, four of them on ventilators. "We failed to contact the oxygen supplier and only narrowly averted a disaster," said Dinesh Vashisth, vice-president, operations. "Yesterday, we didn't admit new patients being uncertain of oxygen supply, but today had to take in some because they had come for deliveries."
For the second consecutive day, Jeevan Anmol Hospital in Mayur Vihar teetered on the brink of disaster. The hospital received stocks early on Tuesday but only to last till the evening. To its relief, the hospital received fresh supplies by 10.30pm and are adequately stocked till Wednesday afternoon. The hospital authorities have been instructed to keep demand low. Earlier, the hospital had advised patients to think of alternatives. At the hospital, a 30-year-old woman told TOI, "My mother is in the ICU. There are no ICU beds in Delhi. Where will we take her?" she moaned.
Several hospitals flirted with disaster before remedying the situation at the last moment. Sama Hospital in Siri Fort, with 30 critical patients, had a heart-stopping moment at 4.30pm with only an hour's oxygen left. Indian Spinal Injuries Centre in Vasant Kunj stared at a post-midnight crisis until the authorities arranged replenishment at 1.45am. At the time this story was written, the authorities were still trying to restock the gas at Jeewan Mala Hospital, opposite Maharani Bagh, which sent an alert about depleted supplies at 10.24pm.
Lajpat Nagar's Institute of Brain and Spine asked its Covid patients to shift to other hospitals because it was running out of oxygen. With help from various quarters, including a tweet from actor Sonu Sood, some oxygen cylinders were somehow procured. On Tuesday, several cylinders bearing the names of patients stood in the hospital's parking lot.
One of the cylinders was owned by Mohit Gupta, a Delhi High Court lawyer whose mother, Madhu Gupta, was hospitalised on April 30. "Where could we have shifted? Where are the beds and the oxygen for our loved ones in Delhi?" Gupta asked. The best he could do, and after strenuous effort, was to get an oxygen cylinder for his mother.
At Batra Hospital in south Delhi, there were no new admissions. Security guards at the entrance told people there were no beds vacant. The facility has been beset with oxygen problems for several days now.
FacebookTwitterLinkedinEMail